A Mandler masterpiece, and the only Leica lens you need. 
The subtle, unique lens that you can do pretty much anything with. It's bitingly sharp with medium contrast and medium saturation, beautiful subject isolation and just does real life justice in each shot. The 50 Summicron-M V5 is a lens that will make you smile while using it and then again when you dive into the files. It's as comfortable on film as it is on digital, and has remarkable performance across the frame. To me, this lens is the classic definition of pocketable Leica performance and one could easily pair this lens with a 21mm and hit the road.  
Image quality:
-Sharpness (perfect since 1979)
-No distortion
-Color fringing (hardly noticeable)
-Pleasing bokeh with a 3D pop and character (personal taste) 
-Consistent image quality across the frame (better than a Lux ASPH)
-Some coma (unsurprisingly)
-Field curvature (medium to far distances)
-Flaring issues (veiling)
-Bokeh outlining and harshness with busy backgrounds.
  The 50 Summicron feels like two lenses in one: wide open at f2, it's sharp, but not overly sharp with a tiny glow and a gorgeous transition from in focus to out. Bokeh at f2 is creamy and classic with some outlining and a signature Leica glow reminiscent of other Mandler designs. Bokeh cleans up at 2.8 with nearly nearly zero outlining. It's tack sharp starting at f2.8 and from f4-f8 it's truly incredible how much detail it resolves. There's field curvature that you will notice at greater distanced portrait shots until about f4. 
Unlike many other rangefinder lenses, the Summicron behaves nicely on the thicker filter stacked Sony sensors. I'm happy to report that other than a slight increase in field curvature and some astigmatism towards the edges, the 50 Summicron M is a great performer on mirrorless cameras.
Where this lens falls short is in flare resistance to indirect light, and as a premium lens I am surprised that this lens suffers so greatly from it. The lens usually produces lovely distinct flares when a bright light source hits it just right. The real problem is the dip in contrast from angled stray light. No this lens doesn't easily flare and it's not a common issue as I've only encountered a completely veiled image only a handful of times. It caught me off guard when doing a product shoot and noticed stray light was lowering the contrast imperceptibly on the camera screen, yet noticeably on my monitor. I've noticed this phenomenon primarily when shooting indoors or in complicated lighting. The Summicron also becomes more vulnerable to veiling as you stop down, not a good thing on a rangefinder lens as you wont see it immediately. 
Otherwise, the 50 Summicron renders like a nice typical modern-ish Leica lens with medium global contrast and excellent micro contrast. The lens is also extremely transparent in the sense that you retain a lot of shadow detail and slightly subdued yet accurate colors, all of which can be increased in post. Though I've come to find that it shows finer details with a coarser stroke than with a 50 Summilux-ASPH, making it more appropriate for detail shots and work where on the fly sharpness is key. This rendering makes for fantastic results on film, especially black and white, landscapes and street- photography. 
The 50 Summicron feels like a purpose built tool and inspires without getting into the way. 
The size, the image quality and rendering are inspiring and the lens is the quickest focusing manual focus lens I've ever used. I can easily focus with one finger making the need for a tab moot and one handed operation very possible. The 50 Summicron files feel organic and real. It's an optical marvel and truly is a special lens; especially when considering that the optical design was originates from the 1970s and outperforms most lenses made today! 
Where my relationship with the lens diminished was at low light photography and for crucial moments where I needed a dependable lens. The flaring resulted in unpredictable and often flat images at night and indoors. The depth of field from the f2 aperture was also eerily close to that of my 35 Distagon ZM and the light gathered by the Summicron looked and felt actually closer to T2.5. So the 50 Summicron wound up being a lens for my personal work and travel photography.  I always enjoyed the results but couldn't risk not using a more predictable lens with more light gathering capability.  
The 8 aperture blades make for some decently defined sunstars starting at f2.8 and the bokeh cleans up from classic-outlined balls to a smooth blur at f2.8. Stopping down improves sharpness, the biggest increase being from f2 to f2.8. Vignetting isn't unbearable and is hardly noticeable from f4 onwards. The negligible vignette paired with even image quality from edge to edge, enables countless composition possibilities.  You can frame to have a subject in the very corner and rest assured that they're still sharp.
The cropping ability from this lens is seemingly endless.
In the end, I had a hard time justifying such an expensive lens to be used solely for personal work and my lust for a lux took over and I wound up selling the 50 Summicron-M to fund a 50 Summilux-ASPH after two wonderful years of use. The differences between the two are to my surprise many, with strengths and weaknesses on either side. In a perfect world I would own both lenses. I truly believe that the Summicron is and could be a fantastic choice for anyone seeking a walk around high performance and inspiring lens. 50mm lenses require just a bit more time to focus and frame than 35mm lenses, and as such the Summicron is the fastest 50mm I've used thanks to its greater depth of field and really quick focusing.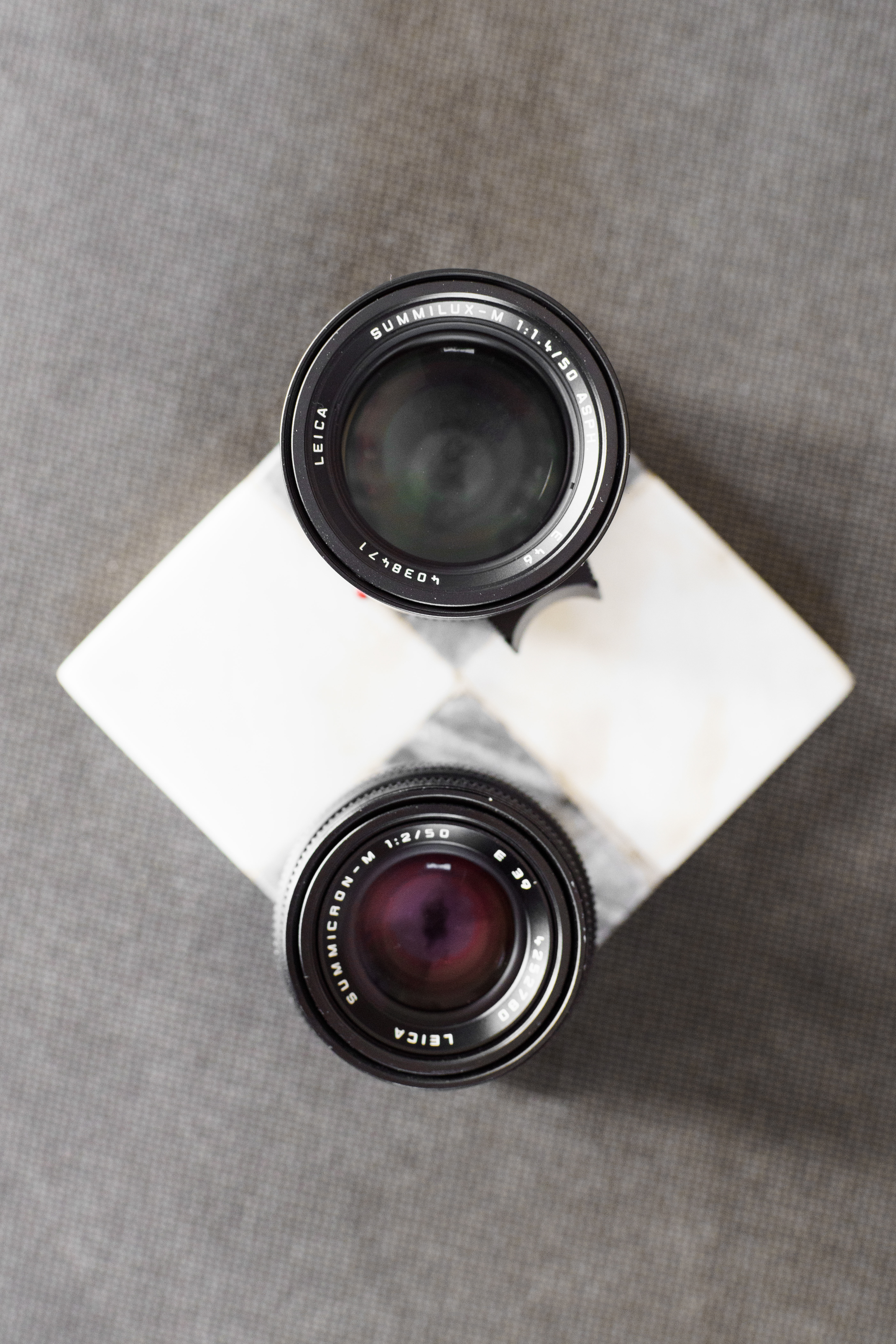 Thanks for reading and please check out my other posts!